If you follow the Fixer Upper family at all, you know they recently added a new baby to the mix. Because I grew up as a child in Texas and Oklahoma, I, of course, loved HGTV's Fixer Upper as soon as it hit the air. While I've certainly gleaned some designs tips from the inimitable Gaines, I've also applied some of their life lessons to other areas of my life. We're all about celebrating both new life and movement here,  so this here is a post celebrating the Gaines family and what they can teach us about life – in this case, exercise. Because our bodies are the homes we'll have the longest on this earth!
In no particular order, here are 6 things Chip and Jo have taught me about both home design and exercise:
1) Fit it to the lives of the people living there
They don't try to make cookie-cutter homes for people but put in small details that they think the homeowners will use and appreciate. If there are children or grandchildren involved, they make a space for them. If they're people who like to spend time playing music, they make a space for that.
Your exercise routine should be the same – both something you enjoy and something that will work in your actual life. If you don't like doing yoga/CrossFit/running, guess what? Movement should be first and foremost about enjoying the body you've been given to live in and learning better how to use it – not just looking a certain way, or fitting into a certain size.
2) Do what you can in the time you have, with the budget you have
Sometimes Chip and Jo have to make decisions with the homeowners that might not be what they would choose, but it's what the budget and timeline will allow. Or sometimes, there will be little extras between which Jo lets the homeowners choose. She might tell them they can upgrade their tile, add wood beams to their ceiling, or add on an outdoor space, but they can't have all three.
Every once in a while, I dream about going to exercise classes for a couple of hours with a darling outfit made of the varying pieces of perfect athleisure I own. The first problem with this is I typically exercise in the soccer equipment leftover from as far back as middle school. And the second is I just don't have time (or stamina!) for all-day yoga, barre, Pilates, etc.
The good news is, conscious movement throughout the day is a GREAT way to fit in some exercise. And you don't need special equipment to do so. I still think that taking a break for some time for yourself whilst moving is a joy, but it doesn't happen for all of us every day.
3) It's more fun with other people
Throughout the various seasons of Fixer Upper, we get to learn and know more about the people who work with the Gaines in making these homes into the gems they become. Chip, in particular, seems to enjoy the people on his crew, and there are many episodes filled with antics between him and the men who work with him.
One of my favorite examples of this is when Chip and Shorty (one of the men on his crew), race each other around one of the houses they're working on. I don't remember exactly why this happened, but watching those two guys run their hearts out in their jeans and boots was hilarious (and another good example of fitting in movement when and wherever you can!)
Exercise is often like this. When we get moving with others, we're more likely to do it in the first place, and it is usually more fun! The great news is, sometimes even just knowing there are other people doing the workout you are can make a difference. If I know I have a buddy to keep me accountable, I am definitely more likely to get going.
4) Listening is as important as doing the work
As I mentioned earlier, while working on a fixer-upper, Chip and Jo do a great job of taking the family's wants and needs into account. But sometimes they have to do a little digging to find out what their clients really desire. Luckily, the Gaines are great at asking good questions, listening, and using a little intuition to help them get to the end goal.
Do you ever feel like you're telling someone what you'd like and they're nodding their head but not really listening? Unfortunately, we do this to ourselves waaaay too often. Our bodies are telling us one thing, but we don't listen. And then people get to come to see me for physical therapy….
Listen to your body! Learn to tune-in to what it's telling you. Yesterday you might have been able to do 5 more reps than today. That's OKAY. Show yourself some grace and remember we're on a journey with these bodies. Also, we'd like them to work well for quite some time.
5) Good design can be a game-changer
People fell in love with Magnolia Homes not only for Chip and Joanna (although they are definitely a big part). They love Magnolia because of the quality and beauty of the work.
Most of us would agree, I would rather have a home will stand the test of time than just what is trendy today. And perhaps even more importantly, I want a home that will stand up to strong winds, blasts of rain, or swirling blizzards.
We want this for our bodies too! So while some fitness trends may seem flashy, let's make sure we're performing movement that will allow our bodies to work their best both now and later. We want to be able to move and lift and run with both our children and grandchildren.
6) Doing it for other people is the biggest motivator of all
At the end of every episode, the cameras usually catch the now fixed-up family sharing their new digs with people they love. The camera pans through happy faces sharing conversation and eats in their renovated space.
Chip and Jo also make it a point to say that they do their work for the way it can change the lives of those who live in their homes. It's more than shiplap and paint colors. It's the way people create memories in these spaces.
Exercise can be like that too. You can share it with others (which actually makes you more likely to do it!) and you can move so that you have more energy to share with those you love, as moderate exercise actually gives us a boost!
In fact, I believe when all is said and done, knowing that taking care of our bodies allows us more time, and better quality time, with the people we love is one of the best reasons to move.
Sure it's nice to feel at home in our bodies and to be able to lift what we want when we want. But knowing a few minutes of exercise here and there can add years of life moving in ways we want with the people we love is the factor that gets my body in gear.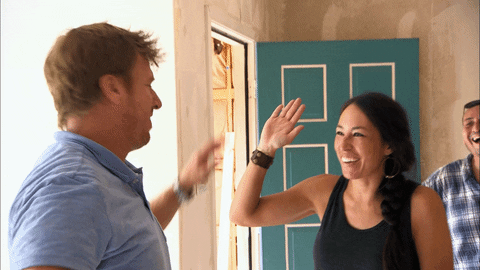 Need more inspiration? You can even move for charity. There are plenty of ways to do this, but since this is a post about Chip and Jo, let me link you up to their marathon.
Or if you're pregnant, how about the fact that exercise will literally make your kid like a super-baby?
Share this with the Fixer Upper fanatics in your life! Any tips of fitting movement into your day today?